The value of connecting your workforce – Highlights from our February event
On 18th February we were joined by our partners Workplace from Facebook and 300 to deliver a breakfast session on Workplace ROI to a packed room.
In this blog, we'll give you some of the highlights and focus on the key points from the morning. If you would like to know more about the next events in the Azuronaut calendar, make sure you keep an eye on our social media channels.
Workplace from Facebook
The event began with a session from the Workplace from Facebook team. Nikki Harding and Marine Masters talked the audience through the benefits of a connected workforce. Nikki delved in to a live demonstration of Workplace and how the functionality can provide different opportunities to businesses, including the ease of access to instant messaging, and the effectiveness of groups to bring together people and documents working on different projects.
Marine then drew upon statistics from a recent Forrester Report on the effectiveness of Workplace from Facebook. Some of the highlights Marine called out were:
32% more product innovation as it's easier for people to share their ideas
24% more efficiency in onboarding employees as it's easy to access welcome and how-to videos and content
About 25% less cost in leadership communication with features like Live Video streaming to connect with employees and seek real-time feedback.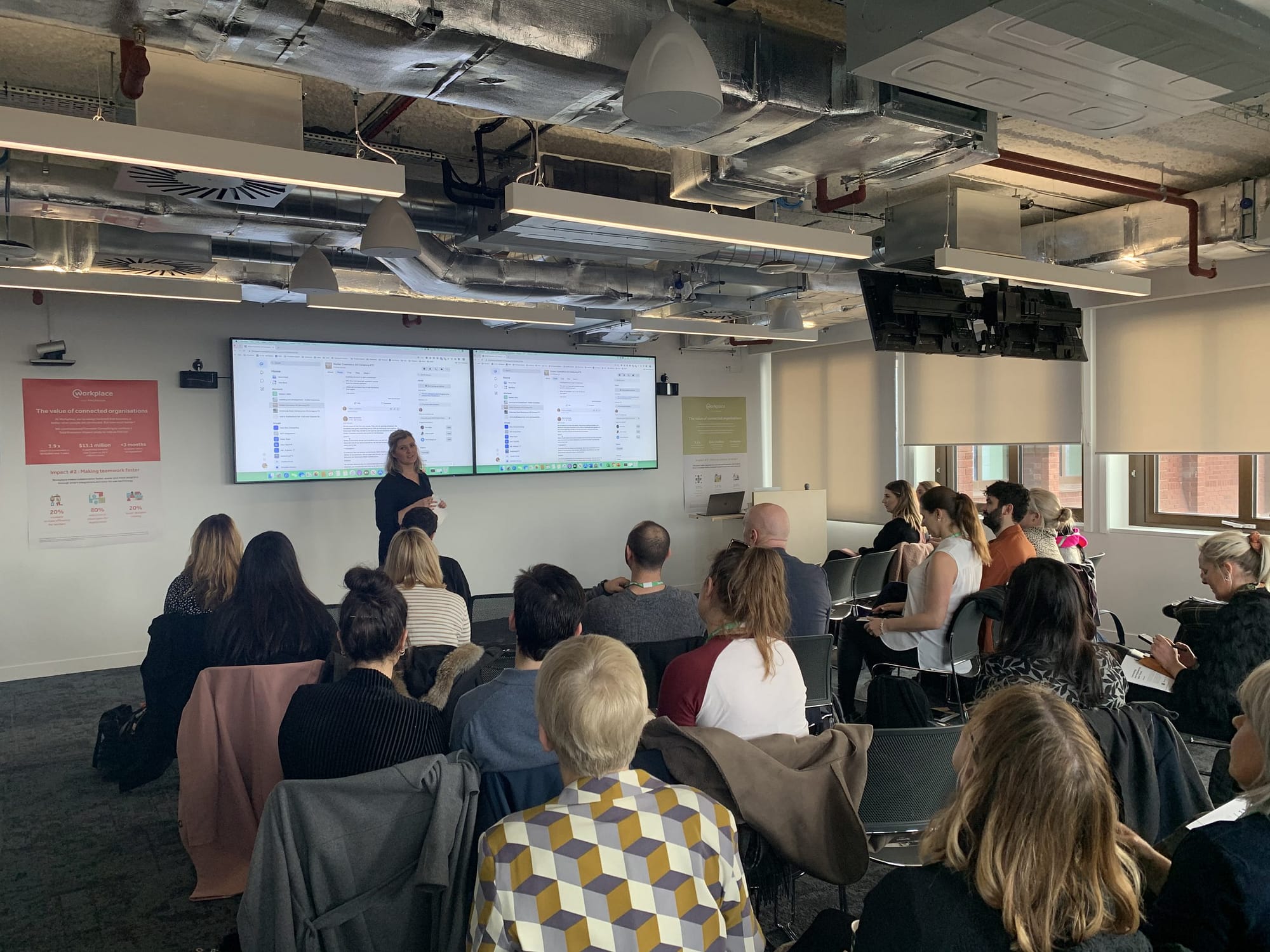 Nikki Harding talks through Workplace from Facebook
Azuronaut and Ennismore
This was then followed by a Q+A with Azuronaut CEO Regan Collins, and Marcos Eleftheriou, Head of Culture and Internal Comms at Ennismore. Marcos spoke about how both Azuronaut solutions and Workplace have enabled a culture of connectivity and learning, through aspects of our work such as automatic group provisioning and the introduction of the Flow Bot to integrate their learning platform with Workplace.
Marcos also spoke about the benefits of our work in preparing the launch of Ennismore's first coworking space in the UK, Working From_ Southwark, which opened its doors in February 2020.
You can read more about our work with Ennismore here, and Working From_ here.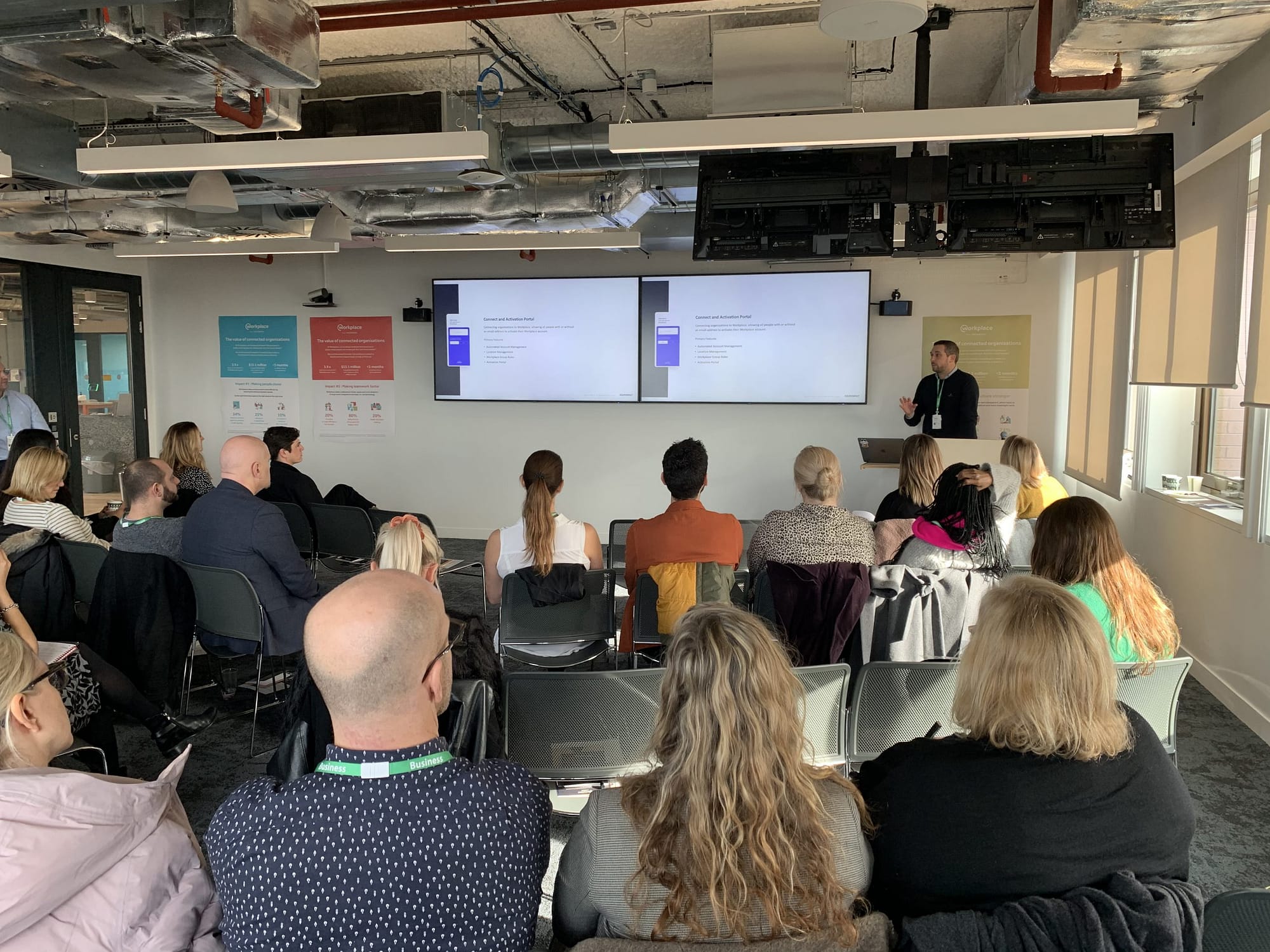 The Azuronaut session culminated in a live demonstration delivered by Matthias Vanhollebeke, Head of Architecture. Matthias walked the room through examples of our provisioning tools, Connect by Azuronaut and our Activation Portal.
300
Our partners 300 then took the floor, with more client examples on the impact of comms to support implementations. Caroline Watkin and Phil Jenkins took the audience through recent work for Purplebricks, Ralph Lauren and Finsbury Food Group.
Caroline Watkin and Phil Jenkins talk through client stories
Q+A with Julien Cordoniou and Marcos Eleftheriou
The session finished off with Workplace VP Julien Cordoniou and Marcos fielding questions from the audience, which delivered some great insights to those in attendance on the power of Workplace, and their ambitions for 2020 and beyond.