Workplace by Facebook takes on email… and everyone is chatting about it
Attending the first Workplace by Facebook FLOW conference in San Francisco was a game changer for myself, the non connected worker and … email.
Held on Facebook campus and with a line up of speakers including Delta Airlines, Clarins, Vodafone and Clarins you couldn't help but be amazed at the growth of Workplace in the last two years. It is very clear that Workplace are 'in it to win' and they mean business – enterprise business.
Workplace released a number of platform updates including instant messaging and video conferencing to connect with people outside your organisation.
Essentially this means anyone can message anyone directly — so long as you are both a member of the same multi-company group. Just as quickly as you workchat your colleague and say "shall we catch up at 4pm today" you can now workchat your clients, suppliers and partners who work in other organisations you are joined.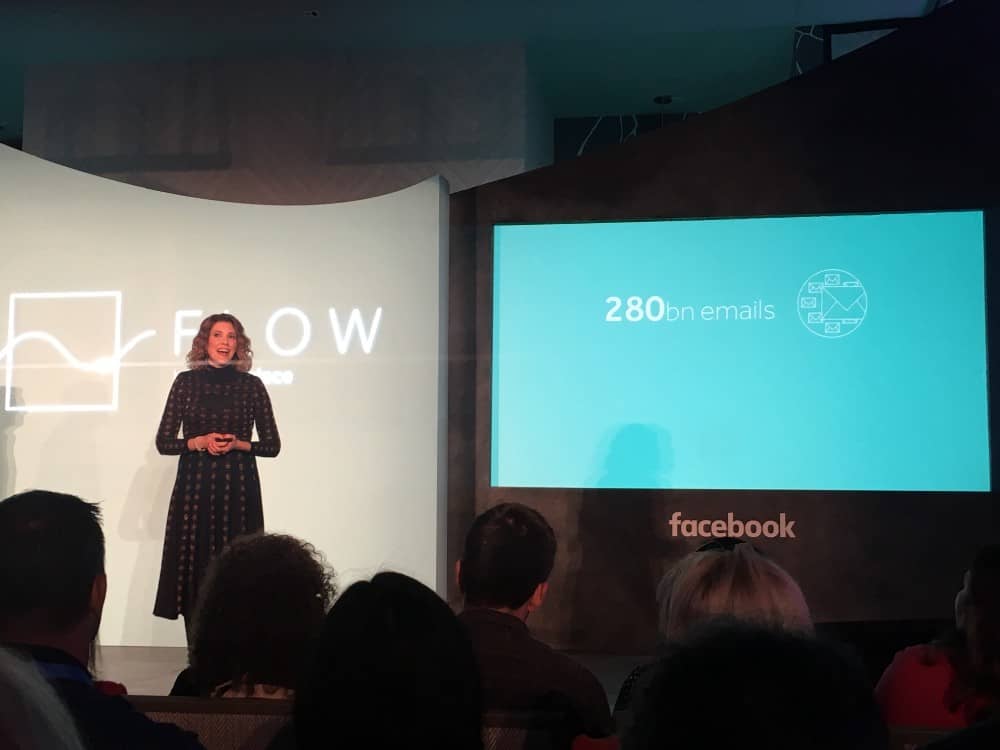 Christine Overby – Director Product Marketing:
Announcing the new product features from Workplace
Christine Overby made the announcement which was followed by applause from the audience — in the same session Christine announced Workplace will be adding a 'do not disturb function' to workchat, avoiding those untimely messages and giving users a 'break' when they need.
The end of conversational email …
For the world of conversational email there is going to be a shift — the emails where you message a client to ask if they have time for a meeting — or you email your supplier to update some account details will be in sharp decline.
Formal email on the other hand will be around for a little longer. The email when you are talking legals, employee contracts or want to save a record of a conversation still has a purpose. For now this will remain, but your inbox will be breathing a sigh of relief at the reduction in conversational clutter.
Clarins UK — connecting the unconnected
Emilie Maunoury – Digital Director, Clarins UK:
Speaking on connecting all non email workers
Emilie Maunoury from Clarins spoke at FLOW of the huge success in connecting their non email workforce with Workplace and Azuronaut MESH . Clarins have connected store sales employees resulting in a whopping 87% connected. Emilie said "The results are amazing and almost everyone is connected and engaging"
Clarins store employees do not have an email address and instead Clarins opted to use Azuronaut MESH to manage the connection and on-going maintenance.
No Email Mondays
Following the announcement of multi-company group chat my personal commitment is no longer sending email on Mondays and reducing the amount of time spent in an in-box while increasing my time in open working and direct messaging. I will keep you updated with the outcomes and look forward to hearing from anyone else interested to join me. Thank you to James Deren from Clarins for the inspiration
If you are on Workplace — I would love to hear form you on Workchat. If you are still on email that is okay, just don't expect a response on a Monday.